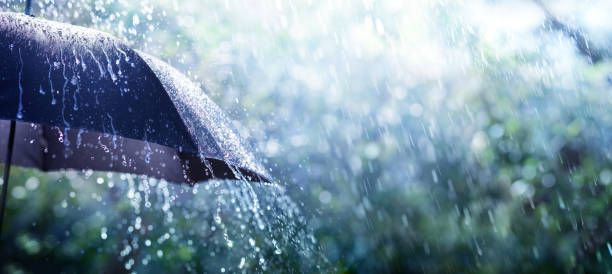 Hey there, rain enthusiasts and hopeless romantics! Today, we're going to dive into the fascinating world of rain, where droplets fall from the sky and love is in the air. Get ready for a funny, romantic, and intellectual journey as we explore the charm of this enchanting weather phenomenon.
Picture this: you're curled up by the window, sipping a steaming cup of coffee, and watching as raindrops tap-dance on the glass. Ah, rain, you sly devil, you know just how to set the mood. It's like nature's way of saying, "Hey, let's slow things down a bit and appreciate the simple pleasures in life."
Now, I know what you're thinking. Rain may not be your typical romantic setting. You might envision scenes from cheesy romance novels where couples get caught in the rain, hair matted, and clothes drenched. But let me tell you, my friend, there's something uniquely magical about rain that can make even the most ordinary moments extraordinary.
Firstly, rain is the ultimate equalizer. When it pours, no one is exempt from its watery embrace. CEOs, superheroes, and even that neighborhood cat with an attitude problem—they all get equally soaked. Rain has this wonderful way of bringing people together, turning strangers into comrades united under a shared purpose: finding shelter from the deluge without sacrificing their dignity.
But rain isn't just about soaking your clothes; it's about soaking up inspiration. Remember those movies where the protagonist has a breakthrough moment while standing in the rain? It turns out there's some truth to that. Studies suggest that rain has a positive impact on our creativity. So, next time you're stuck with writer's block or trying to compose the perfect love poem, take a stroll in the rain and let those ideas pour down like, well, raindrops.
Now, let's talk about the sheer beauty of rain. Have you ever marveled at the way raindrops catch the light, transforming ordinary streets into glittering wonderlands? There's a certain elegance in the way rain paints the world anew, washing away the grime of everyday life and leaving behind a fresh, glistening canvas. It's like Mother Nature herself is an artist, using water as her medium to create a masterpiece.
And let's not forget the sensual side of rain. Have you ever danced in the rain with your loved one? It's a recipe for romance, my friend. The sound of raindrops falling, the feel of rain-kissed skin, and the joy of sharing a playful twirl in the downpour—it's a moment straight out of a movie. So, next time it rains, don't run for cover. Grab your partner's hand, let your inner Gene Kelly or Ginger Rogers shine, and dance your hearts out under the gray skies.
Lastly, rain has a way of washing away our troubles and soothing our souls. There's something oddly comforting about listening to raindrops tapping on the roof, like a lullaby from the heavens. It's as if rain whispers, "I'm here to wash away your worries, to cleanse your spirit, and to remind you that there's beauty in even the stormiest of days."
So, my dear readers, let's raise our umbrellas to the rain—the weather that brings us closer, ignites our creativity, and sprinkles a little magic into our lives. Embrace the rain, both literally and metaphorically, and let it remind you of the joy and romance that can be found in the simplest things. And who knows, maybe the next time you step outside during a shower, you'll find love in the form of a raindrop that lands right on your nose.
Until next time, keep your heart open and your rain boots ready. Happy puddle-jumping, my fellow rain aficionados!
---
          This post was created for the Blogaberry Creative (Monthly) Challenge.