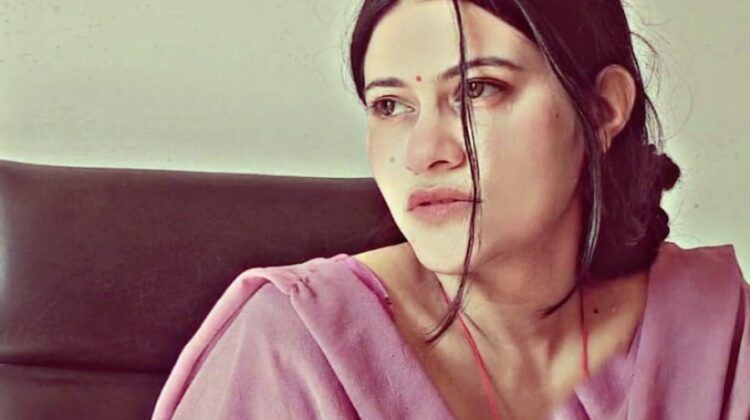 Today we have with us Dr Malwiika Sisodiya, the author of the evergreen book "A Quatrain of Moods". An aesthetic and restorative Dentist by profession, Dr. Malwiika Sisodiya is an established name in the specialisation of Conservative Dentistry & Endodontics. An avid researcher, she boasts of numerous National and International Publications in leading Academic Journals globally.
Me: Tell us a little about yourself Dr. Malwiika?
– Hello, I am Dr. Malwiika Sisodiya and Miss Monidipa has already prefixed by introduction beautifully. To add further, I come from a family of doctors and trace our origins to the Sisodiya Rajput clan that ruled over the erstwhile Kingdom of Mewar in the post-medieval era. Am a doctor myself, and have done by Master's in Endodontics. I am a simple person at heart, yet no simpleton – a dreamer, an achiever, and a glossy blend of tradition and modernism. I aspire someday to bring a constructive change in society through the medium of arts and literature, scientific researches and animal welfare.
Me: Who is responsible for writing each chapter, section, etc. (be specific)?
Dr. Malwiika – We (Me and Shad) conceived this idea of the book "A Quatrain of Moods" during the lockdown period owing to Covid-19 pandemic. I will boldly take credit for the conception, intention and objective of the book. I am a translator myself, and translate canonical texts from 'Prakrit', 'Brajbhasha' and 'Sanskrit' into English. Our book contains about 200 quatrains, and they have been carefully drafted representing the human moods. It is a book signifying different white, bright, gloomy and dark shades in human life and emotions. All the pseudo-visualization and abstraction was conceived by myself, and we completed the quatrains at a leisurely pace. I scribbled the segments, Shad typed and versified the quatrains.
Me: Who is responsible for research?
Dr. Malwiika – The research for this book was done by myself – including art, abstract re-phrasing, re-wording, condensing, abridging and editing. All the pictures for the book were selected by myself as well – since my sensitive, artistic and aesthetic side is refined and conspicuous. It was a big responsibility, since the quatrains are perceived and discerned by the readers with the help of imagery, in the lack of detailed Balladic stanzas fully revealing the anecdote running unseen beyond the horizon of the pages.
Me: Who is responsible for providing the ideas and content behind the book?
Dr. Malwiika – I was made responsible for providing the ideas for every listed quatrain in the book, and I took time to profoundly reconnoitre, explore and observe my surroundings. I wanted and insisted the verses to be in the form of Petrarchan, Goethe, Elegiac and In Memoriam quatrains, to make the readers understand the thematic and let them perceive the panoramic chronicle. Different people will deduce the quatrains differently, that is the beauty and ingenuity of the human mind and behaviour.
Me: While writing, what is your daily schedule like?
Dr. Malwiika – Once I am hooked up at a project, I devote my time and energy to understand what I am trying to convey. I often get absorbed into the substance of the work, but again, I am never known for any half-hearted commitments either. The chimerical narrative hypothetically transcends actuality, and it often blurs the fine thin line between reality and phantasm. In that brief period, nothing other than that narrative occupies my mind, and my friends loathe me for it.
Me: What do you like to do when you're not writing or working?
Dr. Malwiika – When I am not writing or working, I often find nirvana and contentment in solo long drives into the countryside, with nothing but the titillating thrill of music acoustically stimulating my brain. Then you reach a temple and the thumping beat of the chords & strains is permeated and perfused with the chimes and chants of the bells and rustic vocalizations. Can you think of any better way of aristocratic sensory orgasm.
Me: Have you thought yet about publishing your individual book?
Dr. Malwiika – Yes, I am doing a solo book and have titled it "Kaanch Ki Gudiya", translated into vernacular English as 'The Glass Doll'. This is an edited and transliterated book have a collection of aphorisms, epigrams, dirges and elegies by the prominent women authors and poets from different eras. The book will throw light on the fragility of the female mind, in stark contrast to the robust and perfunctory male mind. The book is nearing completion and will be available in leading online marketplaces and retail sites later this year. I am nervous about going solo, but have tremendous faith in my own aptitude, calibre and competence.
Me:  According to you, who is an ideal reader? Also, while reading "Quatrain of Moods," what journey do you want your readers to go on throughout the book?
Dr. Malwiika– An ideal reader is a person who loves the book, irrespective of being authorial or critical. In the context of "A Quatrain of Moods" – the ideal reader comes from diverse socio-economic-political background, whose heart resonates with the quatrains listed in the mood, who has experienced love, joy, hope, denial, sadness, grief, rejection at some point of their lives. Words have great power in them, if you know the subtle art of conveying and delivering those memories back.  Those bygone and buried memories re-surface for a fleeting moment, and without them, life is not just life. Those reminiscences by the lamenting and carousing heart are little treasures in the unseen journey of life, we live for those moments.
Me: When can we expect you to read a book individually written by you?
Dr. Malwiika – My solo book is coming out later this year, and by next month, I should be forwarding it to the publishing houses for acceptance. I have full faith in the Almighty and thence starts the new chapter in my life as a full time poet and author.
Me: Whom you want to give credit for your success?
Dr. Malwiika – I will give credit to my "Amma", the person who has stood with me in every rain, hail, sun and draught – my grandmother. The next line of credit goes to my parents, who have loved me unconditionally and then my family members and relatives. Most importantly, I would give credit to "pre-destiny". To quote the famous French fabulist Jean de La Fontaine – "A person often meets his/her destiny on the road he/she took to avoid it". I guess this sums it up.