Hey there, fellow book enthusiasts and curious minds! Get ready for an exciting journey into the heart of "Fear and Lovely" by the talented Anjana Appachana. We're about to embark on a rollercoaster of emotions and secrets, so buckle up and join us for a chat that's going to make you want to dive right into this gripping story! We had fun interviewing her, but before we dive into her interview, here are some words by the author, herself.
Thank you for your interest in Fear and Lovely.

Preliminary to answering your questions, I'd like to say that I'm the last person who can speak coherently about what my novel is about, what Mallika's journey represents, or the significance of using multiple perspectives. I believe a discerning reader can answer these questions better than me. These are not the things I'm thinking of when I write; I'm thinking about my characters. My entire involvement is in their world, their dilemmas, their relationships, their secrets, the choices they make and the struggles inherent in those choices. 
No, without further ado, lets go ahead.
Mili: The story revolves around Mallika, who battles with depression and memory loss while keeping her mental illness a secret from her community. How does Mallika's journey represent the broader theme of mental health stigma in society, particularly in close-knit communities like the one in New Delhi?
Anjana: I had no idea I'd be writing about mental health. I'm very glad that I did, but I hadn't planned it. The prologue which speaks of it right in the beginning of the book was written and re-written much later, when I was more than half-way through the book. As I wrote about what Mallika went through, I found her spiralling into a deep depression, which had to be hidden, since this was the seventies when no one talked about mental health. In fact, the term "mental health" was never used. You were crazy or nuts or mental or paagal or cracked. I had great compassion for Mallika as well as for her mothers, father and Ayah-ji who loved her so deeply and suffered as much as she did, and perhaps more, because one suffers more for one's child than one does for oneself. However, I think that in some ways my story is as much about love as it is about mental health or other aspects of suffering. Had Mallika not been loved and protected so fiercely by her immediate family she may never have recovered. Society can be cruel, no less now than then. And suffering is inherent in anything that one is compelled to be silent about. Once, mental health issues were shrouded in silence. Now, forty-five years later, while there is more of a conversation about mental health, many still tend to hide it because the consequences for speaking or living your truth can be terrible. It can be wonderful too, but that usually comes later. It doesn't matter whether you live in the 1970's or in the 2020's – there are plenty of truths that are hidden. There always will be.
Mili: The narrative unfolds through the perspectives of Mallika and seven individuals close to her, each hiding their own truths and struggles. Can you discuss the significance of using multiple perspectives to tell the story? How does it contribute to the reader's understanding of the characters and their interconnected lives?
Anjana: I cannot speak for the reader. But I can speak as a writer. This book was initially written from only one perspective – Mallika's. The book never took off, so I put it away. However, the characters refused to leave me. So I gave myself an experiment to write a few pages from the perspective of different characters in the book, just to get my creative juices flowing. As I gave voice to eight of these characters, I found myself fascinated by how different they were, by how little I knew them, and by how much I wanted to know them. This experiment – of writing a few pages from the voices of different characters – became the book, Fear and Lovely. I found how different the characters were from one another, how each viewed life, how they perceived one another, and how there is no such thing as "the" truth. Each character has her or his truth. I was fascinated by all their different truths. It took me time to get to know them. Using multiple perspectives allowed the story to be held aloft by many loving hands. Mallika alone couldn't have borne the weight of this story and the many themes that it encompasses. It was a joy for me to examine the same things from different perspectives. I felt I was in the company of eight very dear friends.
Mili: Secrets and silences seem to play a pivotal role in the lives of the characters in "Fear and Lovely." What do these secrets reveal about the complexities of relationships and the human experience? How do these secrets impact the characters' journeys throughout the narrative?
Anjana: As far as I'm concerned, everyone has secrets and silences, big and small. Silences are complex – you may not even know that you're silent about something. There must be a context to understand silence. In '70s India for many young people, there was no context. When there's no context, then there's no comprehension; you may not even be aware that you are silent about something. Often, how these silences affect your life is something you realize only decades later. The time hasn't come for my characters to realize the enormous consequences of their silences. That is a longer journey that is more complex than merely "getting to know" someone's secret.
Mili: The book is set in New Delhi, a city rich in culture and tradition. How does the setting influence the characters' actions and the unfolding of the story? Can you elaborate on how the cultural backdrop adds depth to the narrative and the characters' struggles?
 Anjana: While I do have a setting, I don't focus on that. My focus is on the internal landscape of my characters, not the external one. That is the terrain I find fascinating. I find silences and secrets very, very interesting. And since I love my characters, I find myself completely involved in their lives, their loves, their silences and their struggles. I think that would be the case whether my characters are based in the nineteen seventies or the two thousand twenties.
Mili: Is there any particular book that influenced you to become an author?
Anjana: Every book I have loved since I was five years old has influenced me and I've lost count of how many books I've loved since I was five!
Mili: Your book Fear and Lovely is written in a humorous tone, why you chose this lighter tone to deal with a deep plot? What inspires you to make such decisions? 
Anjana: That's such an interesting question. And, truthfully, your question doesn't have an easy answer. When I began my experiment with the eight voices in the book, I found I was using a lighter tone. I think that was because I began the story by exploring the daily lives of my six young characters. I found it to be a terrain filled with the lightness and sweet ignorance of youth. Because my characters were so young and I am not, I found myself viewing their lives with a great deal of love and amusement. I partook of that youth, that silliness and those happy days. It became my world. But then, as I continued writing I found myself encountering their silences, and of course, I had to find out what these silences were.
The issues my characters are silent about are not at all funny. They suffer deeply, but don't always know that they are suffering, and they certainly don't understand their suffering. I found myself balancing the humour of their daily lives with the complexity of their suffering. They can't look at their suffering, let alone address it. In the prologue Mallika speaks about her mental breakdown using the vocabulary of a society that condemns you for being mentally ill. Since Mallika has gone through severe depression, she deliberately speaks of it in that tone, and with dark humour. Dark humour about her own experience is her way to address the experience in the prologue. But mostly, humour is used in the story for the lighter parts of their lives. I don't believe I have diminished the suffering of my characters by using humour. Because life is both funny and tragic, isn't it?
Mili: Tell us only one book that you can pick up any day and could read again and again?
Anjana: The Measure of my Days by Florida Scott Maxwell (non-fiction). I dip into it every now and then and discover something new every time. She was in her 80's when she wrote it, and it is such a passionate and wise book.
Mili: Your favourite 3 books?
Anjana: Impossible to say! I have more than a hundred favourite books! So I'll just mention one – the Mahabharata.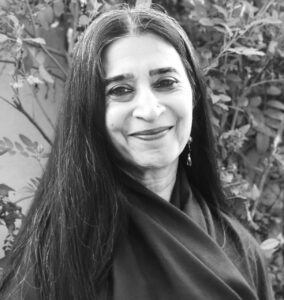 And there you have it, folks! Our chat about "Fear and Lovely" has come to an end, but the adventure within its pages is just beginning for you. So, grab a copy, cozy up with a cup of tea or coffee, and let this captivating story take you on a whirlwind of emotions. Remember, books are like hidden treasure chests waiting to be opened, and this one is filled with mysteries and revelations that you won't want to miss. You can find the review of the book 'FEAR & Lovely' HERE.
Happy reading!
Buy the Book Here