'Everyday, it's a-gettin' closer
Goin' faster than a roller coaster
Love like yours will surely come my way
A-hey, a-hey, hey.'
If you enjoy good music, you might recognize this song. It's called 'Everyday,' sung by Buddy Holly, released back in 1957. Recently, it was covered in Amazon Prime's Original Good Omens 2.
Now, coming straight to the point, Good Omens 1 came out in 2019, and this year they released its second season. I can't express how eagerly I waited for this one. Good Omens is about the friendship between Angel Aziraphale (played by Michael Sheen) and the fallen angel (demon) Crowley (David Tennant) Remember he was in Harry Potter and Goblet of Fire too?). Yes, both are experienced actors and perform marvelously. This show is written by Neil Gaiman (season 1) and John Finnemore (season 2) and directed by Douglas MacKinnon.
The story revolves around our two main characters, Aziraphale and Crowley, who are sent to Earth by Heaven and Hell.
In season 1 of Good Omens, we witness how Aziraphale and Crowley come together to prevent Earth's Armageddon. Season 2 focuses on Archangel Gabriel. Gabriel rejects the second coming of Armageddon on Earth, resulting in losing his position. However, he chooses to put his memory into a fly and leaves Heaven. Despite his lost memory, he discovers Aziraphale's bookshop in London on Earth.
Now, both Heaven and Hell launch an intense search for him. Both sides suspect that Aziraphale and Crowley are involved. Initially, Crowley hesitates to assist Aziraphale in protecting Gabriel, but let's face it, he can't abandon Aziraphale. So, he decides to help him.
In the last episode, Gabriel remembers everything. We find out he and Beelzebub (the demon from Hell) have fallen in love. Once the truth comes out, Gabriel and Beelzebub quit their jobs and go to Alpha Centauri, choosing love over picking sides. For now, the second coming of Armageddon is canceled by Metatron, and angels and demons return to their respective realms.
There's a twist at the end: Crowley realizes he loves Aziraphale, and Aziraphale is appointed as the supreme angel of Heaven. Aziraphale wants Crowley to join him, but Crowley decides against it. He doesn't want to go to Hell or Heaven; he just wants to be with Aziraphale.
There's even a kissing scene between Aziraphale and Crowley as they part ways, giving us hope for a season 3.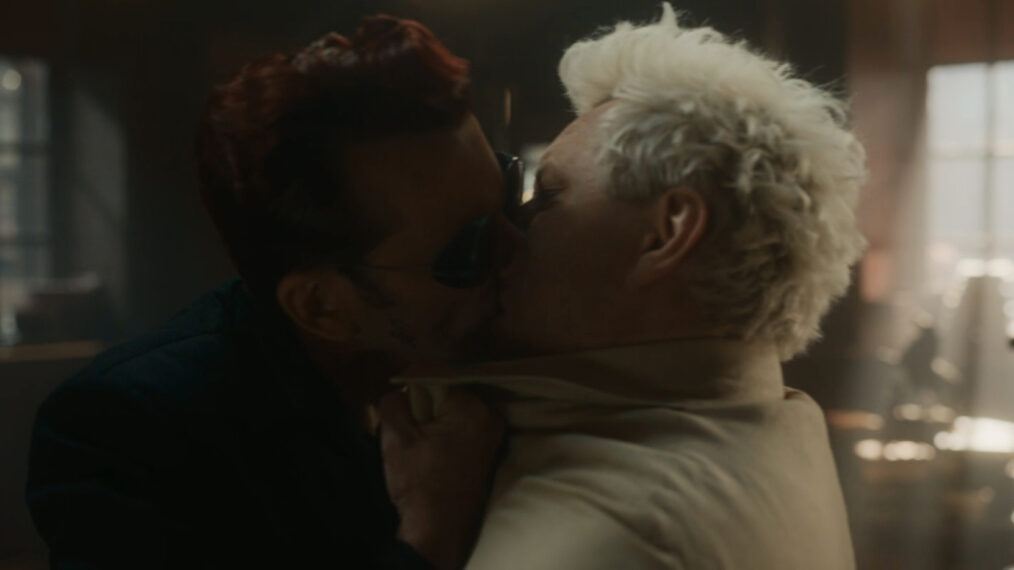 I really want Aziraphale to love Crowley back in season 3. It's clear from season 1 (and just common sense) that they already love each other a lot.
I told you a lot about the show, but I suggest you watch it. It offers both comedy and valuable lessons about friendship.
Michael Sheen and David Tennant, without a doubt, have portrayed their roles exceptionally well. So, give it a watch!
Also in case you haven't heard of Buddy Holly's Everyday, you can listen to it here.
---
This blog post is part of the blog challenge 'Blogaberry Dazzle' hosted by Cindy D'Silva and Noor Anand Chawla.