Hey there! Have you seen how we read poems differently now? It's not only about books. These days, rather than buying a poetry book of a new poet and reading it we prefer reading poems on Instagram and Facebook. Let's talk about why is this going on.
We all have come across this scenario where while we are scrolling either FB or Insta suddenly a short and sweet poem pops up. It's quick, it's catchy, and it fits right into your busy day. That's the magic of social media poetry. We're all about those bite-sized poems that you can snack on while waiting for the bus or chilling during a lunch break.
But why are we choosing our phones over books? Well, social media is like a poetry buffet. You get a variety of flavors, and it's super easy to find something that clicks with you. Plus, these poems often come with cool pictures or backgrounds that make them pop on your screen. It's like a poetry party happening right in your pocket!
Now, it's not that traditional books are losing their touch. Nope, they're just sharing the stage with our online pals. Poets are facing a challenge: how to say big things in a small space. It's like fitting a heartfelt message into a tiny tweet or Facebook post. It's a game of words and creativity.
And guess what? I recently had some of my poems published in newspapers, 2 poems in 'The Hans India' and 1 in 'The Daily Guardian'. Yep, the old-school kind! Even though we're all about the internet, there's something special about flipping through pages and stumbling upon a poem. It's like finding a treasure in a hidden cave of words.
So, whether you're into books or scrolling through your social media, poetry is still rocking our world. It's changing its outfit to fit our fast-paced lives, and that's pretty cool. Whether it's on paper or on a screen, poetry is finding its way into our hearts, making us feel things one tiny verse at a time.
P.S: I am attaching my published poems below: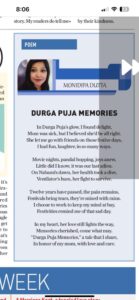 This blog post is part of the blog challenge 'Blogaberry Dazzle'
hosted by Cindy D'Silva and Noor Anand Chawla in collaboration with Dr. Preeti Chauhan.