On November 11th, we gathered again for our Book Club meeting, this time to celebrate Diwali. It was pre-decided that we would all wear ethnic attire, except for Meher and me, as we had our reasons for not doing so. Having missed the last meeting, I realized that I had missed a lot. Present were Me, Rajeshwari, Meher, Dhwani, Pritam, and Bhavik. Each member had an amazing book to discuss.
Rajeshwari brought "What If" by Randall Munroe. This book poses hilarious questions that we would typically never think of answering. It sparked some crazy ideas in my mind, which I think are better left unspoken.
Meher presented "If We Were Villains" by M.L Rio, a Dark Academia genre book. The story involves the death of one of seven friends, with one of them being the killer. Meher, in her narration, created a captivating atmosphere.
Dhwani shared "Italy Ever After" by Leonie Mack, a cute contemporary romance novel with a theme of love at second chance. The story and theme were quite dreamy.
Pritam discussed "The God Delusion" by Richard Dawkins. This book tackles a unique topic, and Richard presents interesting rebuttals for everyone, whether religious, atheist, or agnostic. Pritam presented it in a compelling way.
Finally, Bhavik introduced "Pachinko." I had read this in 2018 while on a wheelchair, and it brought back bittersweet and triggering memories. The book explores discrimination, stereotypes, and power, particularly concerning the experiences of Koreans in Japan during World War II. The story spans three generations, from 1910 to 1989. Bhavik, being a great storyteller, explained the narrative in a fascinating way. It was enlightening to hear about something that had once distressed me in a new light.
Unfortunately, others couldn't join due to their other commitments. Rajeshwari and Dhwani also gifted us beautiful bookmarks, adding two more to my collection.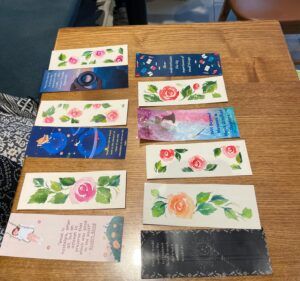 The meet ended on a good note. And on my way back home I decided to put this post for Blog Hop. I wrote this poem, while on my way back.


Diwali of Diverse Tales
In the glow of Diwali, our bookish hearts convened,
Six souls, diverse tales, in the spirit of the festival gleamed.
Ethnic attire adorned five, but Meher and I stood apart,
Reasons woven in threads, a divergence of the heart.
Missed the last, a chapter unfolded without my gaze,
Yet, in the symphony of stories, I found my place.
Rajeshwari brought "What If" by Munroe, a laughter spree,
Questions absurd, a realm where curiosity runs free.
Meher spun the tale of "If We Were Villains," dark and deep,
A death among friends, secrets to keep.
Dhwani unfolded "Italy Ever After," a romance so sweet,
Love's second chance, a tale in which hearts meet.
Pritam wielded "The God Delusion," a debate profound,
Dawkins' words echoed, beliefs unbound.
Bhavik, with "Pachinko," three generations unfold,
Korean struggles in Japan's tale told.
Triggering memories, bittersweet, a narrative unfolds,
Discrimination's dance, stereotypes it holds.
Bookmarks gifted, tokens of the day,
Rajeshwari and Dhwani, in beauty, they lay.
Others absent, commitments tying them away,
Yet, in our literary haven, we found solace that day.
With stories shared and bookmarks gained,
Our book club meet in Diwali's light remained.
---
This blog post is part of the blog challenge 'Blogaberry Dazzle'
hosted by Cindy D'Silva and Noor Anand Chawla in collaboration with Dr. Preeti Chauhan.
Last but not the least, Sorry for the bad recording.