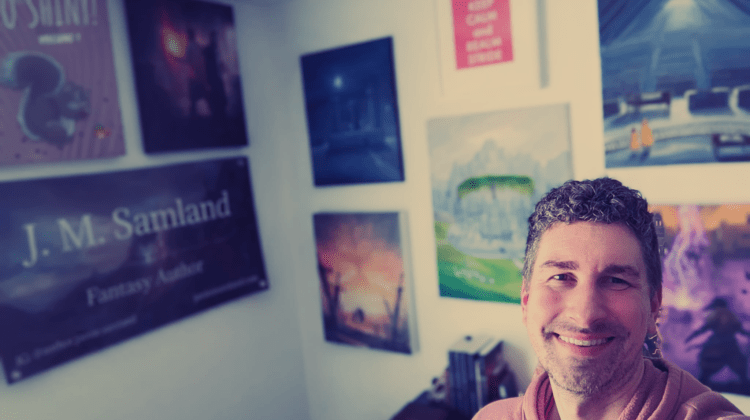 I am thrilled to present my interview with Jamie Samland, a self-published author whom I have had the pleasure of knowing for quite some time.

Jamie M Samland is a self-published fantasy author based in Canton, MI, USA. With a BS in Mathematics and Computer Science, Jamie loves to focus on the science of fantasy, creating characters that understand and demystify the nature of their world's magic. He often uses this approach as an allegory for religious deconstruction, but his engineering background also plays a significant role in his writing.

After more than twenty years of failed drafts and character development, Jamie finally published his first book, Realms of Terswood, in November 2020. The next two novels to complete the trilogy came much quicker, but starting a writing career with a trilogy is not something Jamie would recommend. He's been focused on stand-alone works since, with his latest book, Arcanym, released in March 2023. This marks his first foray into both gaslamp fantasy and the romance genre, and it's also his first book with an audiobook available at launch. His current work in progress is a dark fantasy romantic comedy slated for a fall 2023 release.

Despite struggling with ADHD and depression, Jamie has channeled his experiences into his short stories. His Ooo Shiny! series has been a hit for those going through similar battles. He's passionate about creating vivid worlds and compelling characters that transport readers to new realms of imagination.

Drawing inspiration from his love of storytelling, Jamie spends his free time playing board games, roleplaying with friends, and indulging in other hobbies like martial arts and home repair. When he's not writing, Jamie is often found lost in thought, dreaming up new and exciting stories to share with readers.

Jamie appreciates the support of his friends, family, and especially his husband, who is always his first alpha reader on any project. He's an advocate for anyone considering their hand at writing, cheering them on and giving out any advice gleaned from his years of failures and missteps. His top advice: Just write. Fix it later, but get something down today!

As an independent writer, Jamie has achieved great success in the literary world, and I am excited to learn more about his journey and the inspiration behind his work. In this interview, Jamie will share his experiences as a self-published author, his writing process, and his advice for aspiring writers.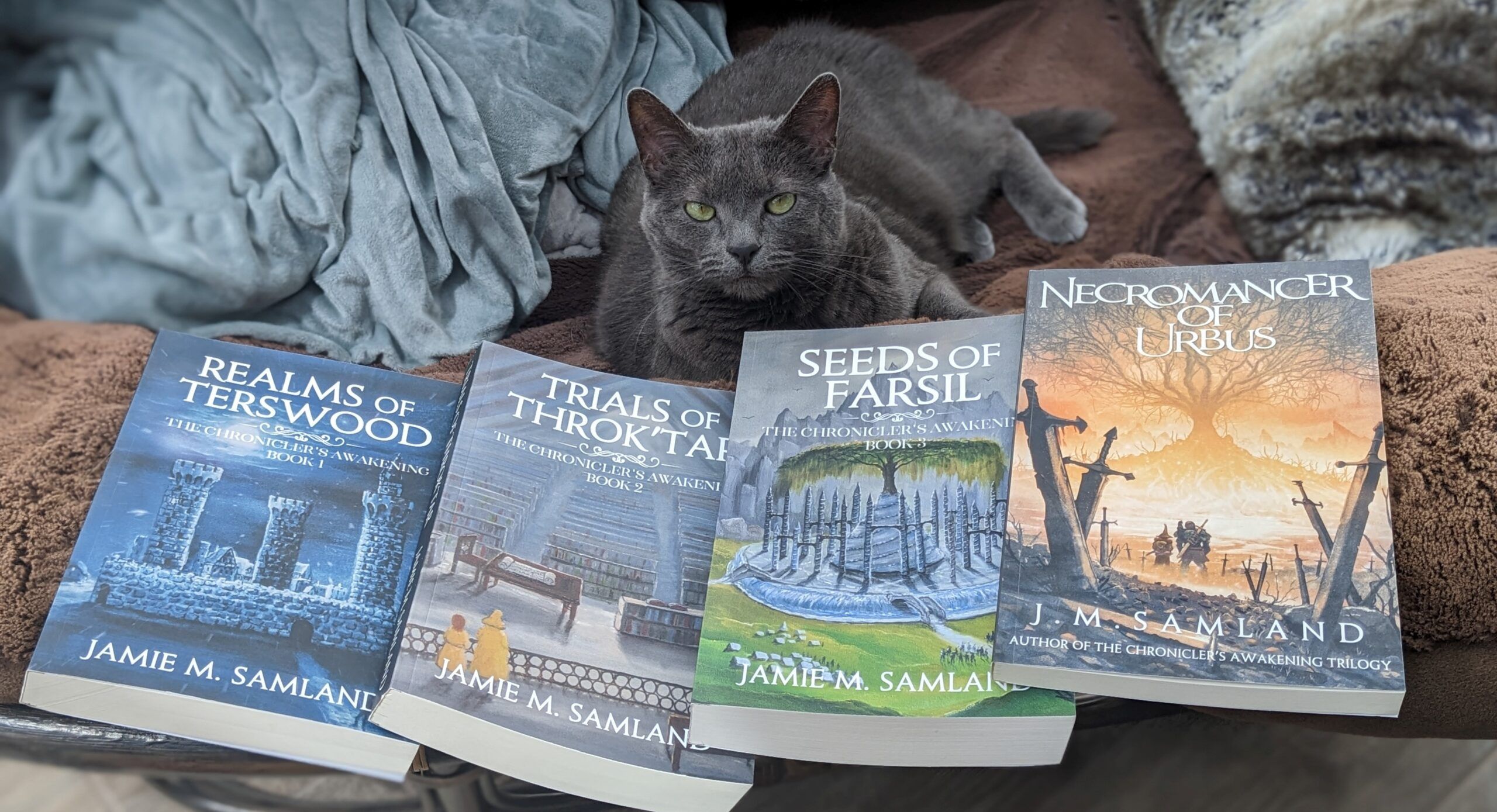 Me: What inspired you to become a writer, and how did you get started in your writing career?
Jamie: I credit my fourth-grade teacher with giving me my first interest in writing. I remember her forcing us to only write in pencil, saying you can only use a pen when you publish a book. Who knows if that's what she actually said, but it stuck with me as a challenge. I wrote through high school, a bit in college, then dropped it for 15 years. When I was 35 and preparing to test for my black belt in taekwondo, I thought of other unfinished life goals. It took until I was about to test for my second-degree black belt, and the lockdown of a global pandemic, to get my first book ready to publish.
Me: Can you describe your writing process, from the initial idea to the finished product?
Jamie: The book starts with a single line hook. "Prince must understand and right the wrongs of his ancestor." "Noble finds romance and uncovers a kingdom-wide plot while investigating his mother." "Girl must undo killing a man before his uncle starts a war." I've tried plenty of schemes for mapping the interweaving plots, but somehow a basic three act structure bubbles up. I flesh out the characters, determine themes to weave between them, and generate lots of AI concept art. The first draft can take three to four months to get down, then it's rereading and editing, an alpha reader or two, more rereading and editing, beta readers while getting the marketing going, editing, betas, repeat. It's so much work, but holding a paperback with my name on it makes it worth it.
Me: Which literary works or authors have influenced your writing style, and how have they impacted your work?
Jamie: James Clemens was my strongest early influence. His The Banned and the Banished series, with epic plots and multiple POVs, directly inspired my early style. Branson Sanderson, Stephen King, and Marsha Wells are also great inspirations.
Me: How do you approach character development, and what techniques do you use to create compelling and authentic characters?
Jamie: Characters start as a flat archetype, with only a handful of traits defining them. The book itself should have a single, central theme, however subtle, and every main character has an initial opinion about that theme. Showing how they change, or remain the same, around that theme creates a sense of continuity between the characters. I also carve off bits of myself or others in my life to infuse into the characters, giving them social ticks to add another layer.
Me: Can you discuss the themes or messages that you explore in your writing, and why they are important to you?
Jamie: Perhaps it's because I'm the child of genealogists, growing up with afternoon picnics in cemeteries, that I write a lot about death. Realms of Terswood kicks off my trilogy with a resurrection gone wrong, triggering a daemon invasion. The prequel, Necromancer of Urbus, is again about trying to bring someone back from death. Ooo Shiny!, my book of short stories, is full of zombies and animated skeletons. My current project is again trying to resurrect someone. I didn't intend this, but here we are. Death and the mysteries around it are universal topics that everyone has some opinion about.
Me: What has been the most challenging aspect of your writing career, and how have you addressed or overcome those challenges?
Jamie: The biggest challenge isn't with the writing, but in the marketing. As a self-published author, it's up to me to make every single sale. The books will only perform as well as I push them, but marketing is an entirely different skill set with another huge demand on my time. I still haven't figured it out after more than two years and six books.
Me: How do you balance the demands of writing with other responsibilities or activities in your life?
Jamie: Oh… Was I supposed to do that? I work full-time as a programmer and teach taekwondo twice a week. I used to play plenty of video games, but my gaming laptop now collects dust in the closet. Writing has overtaken as my primary, and nearly sole, hobby.
Me: How has your writing evolved over time, and what do you attribute to that evolution?
Jamie: I'll readily admit my first books have pacing issues from the start. I've participated in writing coaching programs and listened to reader feedback since to ensure that every chapter drive the character and plot forward. What would have taken me 40 pages to tell two years ago, I can now get done in 20 just by cutting over descriptions and streamlining exposition. In terms of character growth, that has come from life experience. I remember writing a scene in mid-high school where a character gets drunk. Well, I'd never drank before, so it was a lot of guessing, and mid-90s internet wasn't the best for researching like it is today.
Me: Can you give us a sneak peek into any upcoming projects or works that you have in progress?
Jamie: I'm billing my current work in progress as a "dark fantasy romcom," which sounds like a fun cross-section of genres. It follows Gabriela Marwol, who, on her first visit to the city, kills a man. She snatches his ghost without thinking. With her knight protector, a suit of cursed, animated armor, carrying the man's body, she rushes back to her mother, hoping she can resurrect him. It tackles themes of fitting in to a foreign society, found family, and learning to trust. It's been a riot to write with so much black humor. More than any previous work, the characters pull me off track and surprise me with their unwillingness to adhere to my plans.
Me: Last but not the least, here goes my last question,
What advice would you give to aspiring writers who are just starting out in their writing careers?
Jamie: "Just get down words"
You can't edit a blank page, so just get words down and worry about making them perfect later. Producing anything from a short story to a series of novels takes tremendous time and effort. Your seven-book epic should not be your first work, as building your author brand takes a long time. Start with stand-alone works, where you can explore characters and genres while honing your craft.
As our interview comes to a close, I can't help but feel energized by Jamie's passion and commitment to his craft. His story is a testament to the power of self-belief and determination in the face of challenges. It's clear that Jamie's love for writing and his readers is the driving force behind his success. I have no doubt that he will continue to captivate and inspire his audience with his unique voice and stories. If you haven't read Jamie's work yet, do yourself a favor and pick up one of his books today. You won't be disappointed!
You can find more about him here.
Buy His Books Here