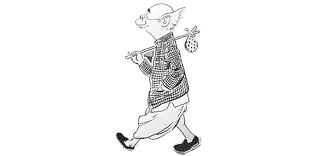 Today I have a guest post on a very powerful and important topic whose moral is, 'The pursuit of false fame and spreading rumors is a waste of time that leads to deviation from truth. Filter out the noise and focus on what creates real knowledge.', this guest post is written by Ms. Nikita Rajput who is a budding author.
The only objective to write this article is to acquaintance you with the avoidance of false news, momentary fame & spoilage of your time. Because your own perspective matters. Where the crowd is, it doesn't mean that it will take you in the right direction.

People can do anything for hunger. "ये पेट है साहब, ये कुछ भी करा सकता है", translated as, "Sir, hunger can make you do anything", you may have heard this platitude. If it were the subject of that hunger, believe me, I wouldn't be here with my words. With the thriving era, people's interests are changing and their demands are a necessity also. Nowadays, people are running after fame. They have the hunger of fame deeper than hunger of the stomach. Debating on political issues, commenting on all sensitive matters, and spreading the popularity of a false persona become the focus of their life.

They create videos which are redundant & have no fulcrum, just to make them viral. They just need any trivial matter just to malice their target. They thought, in this way, they could change others' visions. Writing numerous tweets has become a fashion just to bring those frivolous issues on trend. It doesn't matter whether those are eloquent, apt, obvious or not, they just need a crowd which can blindly follow them. Will they become demagogues by doing this?

No, I mean No. Then, what will it be called, wastage of time or hunger for being prominent? Yes, the answers could be different. Obviously, your views matter but when these are for a favorable change. You might have heard that rumors' have the quality of being invasive. We should stop such things from spreading. We should avoid such asinine issues. Such matters don't create knowledge, these just lead to aberration. These are a far cry from the truth. Turn yourself away from such false fame. Filter the matters & chase what act upon truth. I hope you know & understand well that there's a yawning gap between being prominent and being real."
---
Author Bio
Nikita Rajpoot continues to be recognized as a poetess from her debut Hindi poetry book, Goonj. Her creation Sangam, is a compilation of Hindi poetry and the first anthology by the poetess which proved a successful effort in making a contribution to Hindi literature. She published this book to enlighten Hindi literature and to encourage budding poets. Her interest and love for literature gave her a distinct identity of being the founder of a literary platform, Towards Literature, which is the first official literary platform of panipat. Her third book is noted as the second anthology of Hindi poetry by her. She envisions promoting literature to a great extent to explore its vast scope. She firmly believes she is nothing without the grace of God and seeks his mercy for advancement in her spiritual life. Her latest book, "Eternals" proved bliss in her writing career. It hit the Top #40 & #49 Ranks on the Amazon Kindle Store under the category Religion & Spirituality, which means it made space for itself in the Top 50 Bestsellers. Perpetual strides of Eternals are winning the hearts of readers.