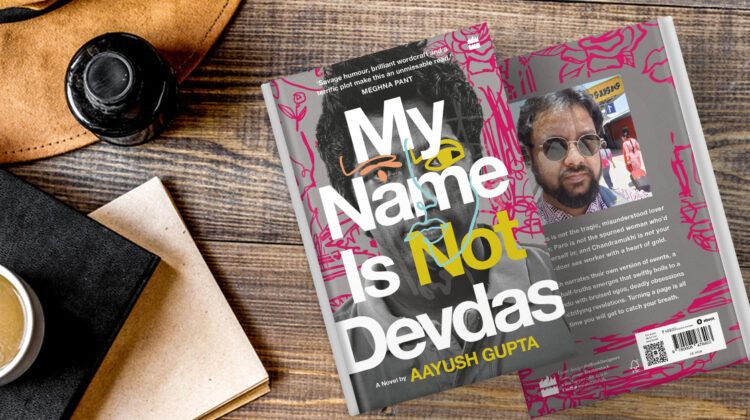 Hey everyone, I am back this week again with a super interesting interview with an author Aayush Gupta, he is an author-screenwriter who oscillates between Delhi and Mumbai depending upon the medium he's working on at the moment. His debut novel TOPPERS, a YA political thriller, was published by Penguin Random House India in 2016. MY NAME IS NOT DEVDAS is his second novel whhich I had read and reviewed too is a darkly subversive contemporary retelling of Saratchandra Chattopadhyay's Devdas.
Have you ever thought about giving a classic story a cool modern makeover? Well, that's exactly what me and Aayush are chatting about in this super interesting convo. They're diving into 'My Name Is Not Devdas,' a book that puts old characters in new situations, like moving from a black and white movie to a colorful comic book. The story happens in college in Delhi, and it's all mixed up with how we live in the digital age. So, get comfy and let's hear how Aayush mixes old stuff with new vibes.
---
Mili: Your book 'My Name Is Not Devdas' presents a contemporary twist on Sarat Chandra's classic tragedy. What inspired you to reimagine the iconic characters of Devdas, Paro, and Chandramukhi in a modern, ideologically charged setting within Delhi's college campuses? Also, The Information Age plays a significant role in your narrative. How does this era of strong convictions and belief systems impact the characters'; lives and choices?
Aayush: The idea behind writing this book was to take characters we think we know, and turn them into representatives of the times we live in. Because once you change the setting of the story from 1917 to 2017, their truth, aspirations, identities, and battles will be affected by it. And what's a better setting than Delhi's college campuses, a place that's supposed to encourage debate and an exchange of ideas.
It adds depth and tension because it engenders conflict. Romantic relationships were never free of social constructs, but in our times, where young people are more informed or misinformed – depending upon how you want to look at it – their own beliefs, and understanding of right and wrong, is becoming more relevant to their choice of a romantic partner.
Mili: The characters in your adaptation seem to reflect distinct ideologies, such as woke Marxism and entrepreneurial capitalism. How did you approach weaving these ideological elements into the characters'; personalities and motivations?
Aayush: The ideologies are secondary. The first thing to go with when searching for a character is their need. Devdas, abandoned by his own mother, absolutely needs the love of a woman. Paro, who's never owned anything, absolutely needs to build something of her own.
Chandramukhi, who has seen her life destroyed by violent clashes between people, only wants to make it to the next day. The ideologies come from the characters, not the other way around.
Mili: While drawing inspiration from the classic tale, you have given your characters a new context and challenges. How did you balance staying true to the essence of the original story while infusing it with fresh perspectives?
Aayush: I am not sure if I've managed the balance. I think whenever at a crossroads, I've erred on the side of telling my story, rather than retelling Sharat Chandra's Devdas. Lovers of his classic might find themselves disappointed if they're looking for the exact same story in a modern context. This story and its characters are different, because they exist in a different world.
Mili: You are a screen writer, what differences did you explore while writing the book, I mean between screen writing and book? Your first novel was placed on political backdrop and second novel also has a political theme; you have a penchant adoption political theme. Can you elaborate why so much love for politics 😀 I mean what attracts you?
Aayush: I enjoy writing both, but I outline a lot more when it comes to a screenplay – there are a lot more restrictions I am working with, like length and the show-don't-tell principle of writing it. Structure is of essence in screenplay, whereas I enjoy the fluidity and flexibility a book gives you. Writing a book for me is a lot more organic and there's a lot I leave to chance, and therein lies the fun.
People interest me, and I have grown to learn that they cannot be divorced from them surroundings – socio-political themes are a part of that. Having said that, my first book, TOPPERS, was a through and through political thriller set in a school, whereas MY NAME IS NOT DEVDAS tangentially touches upon those themes. There is a big difference in approach between the two.
Mili: While reading My name is not Devdas, I sensed it was loosely inspired from real life incidents that we all read in newspaper few years ago, were you actually present at that time when that happened in Delhi? And are you planning to write again something that inspired from real incidents?
Aayush: Yeah, I was in the University of Delhi during all of that. Had rows with friends about the events, ended up alienating a few. It was only later that I realized how headstrong I had been. Was it worth the relationships it cost us? I honestly don't know, but we could have done with a little more tolerance for each other's ideas.
Regarding the second question, yes, I am always planning to write something inspired from real incidents. Even a well- written, relevant high fantasy is informed by real incidents, as is a dystopian novel like Margaret Atwood's The Handmaid's Tale.
Mili: What are your 5 favorite books and why?
Aayush: Favorite is impossible to say. But some I've really enjoyed are Grisham's The Last Juror, Dan Brown's techno-thrillers, Rowling's Harry Potter series, Enid Blyton's The Enchanted Wood, and Arthur Clarke's Rendezvous with Rama.
Mili: What about your favorite authors?
Aayush: I'll always be grateful to Enid Blyton and JK Rowling for first piquing my interest in
stories.
---
And that's a wrap on this awesome talk! Aayush's way of making characters and stories feel real is like adding your own twist to a recipe. He's got this cool talent for mixing real things with made-up stuff. Plus, he's got this thing for stories about how people run countries and make big decisions – kind of like real life superheroes. So, stay tuned, because Aayush's next adventures in writing are gonna be a rollercoaster ride!
                                                  Buy My Name is Not Devdas